---
---
This web site is in honour of my turtle


When you decide to take care of a turtle you must be aware you take the responsibility of doing it, it's a serious engagement you have to keep for life. In fact red eared sliders can live more than 40 years.
It happens too many times that people buy them and just let them die because they don't know what they need, or what is worse, because people simply forget them.
The purpose of this web site is to give information about turtle care and to let you know how much joy and happiness a turtle can bring to people who really love them.
There are also pictures and a page with links to other beautiful and interesting sites.


* When you send an email always write your email address for reply at the end of your letter.
* I try to answer all email as soon as possible, sometimes I receive so many letters that I can't answer them all quickly. If you don't get an aswer in 10 days please send your mail again.

---

22-02-2002 - NEW - A new page added : Your Pictures
---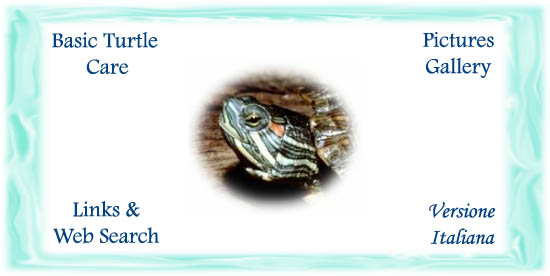 ---
---
---
Last update 04 November 2003